Back
Everest Fund Raising
Rebecca has currently raised £909.00 on just giving, but the total is still rising!
Rebecca one of our Research Nurses who works in the Cardiovascular department at Freeman Hospital embarked on a Trek to Everest Base Camp to raise money for the NECTAR (Newcastle Cardiovascular Trials and Research) fund.
She set off on 25th March 2016 for the two week trip that involved flying to Kathmandu in Nepal to meet a small group of people who were also trekking to the Base Camp.  The next day they flew to Lukla- known to have the world's most dangerous airport, Tenzing-Hillary Airport, with a sloped 460metre long runway and no control tower, radar or navigation. The pilots are forced to rely on the view from their cockpit to land and take-off; if a pilot misjudges landing or take-off, they face a 9,200ft fall off a cliff edge.
From here they trekked most days, staying overnight in small villages, with a couple of days acclimatising to the altitude. The trek was through forests, across glaciers and reached the Base Camp on day 9. This is at an altitude of 5,364 metres.  The group then trek back to the starting point and returned to Kathmandu on day 15.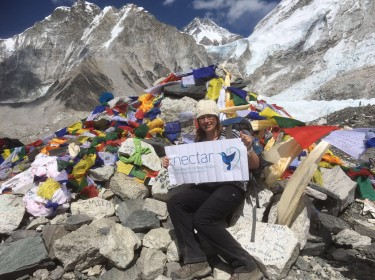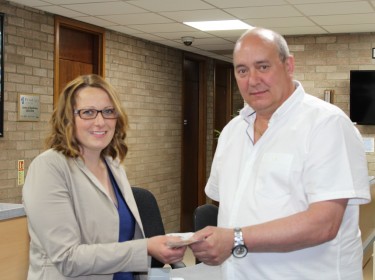 A greatful thank you goes to Mr Sonney Darville pictured, who helped Rebecca by raising almost £400 from the Blakelaw  community!
If you are interested in raising money for Cardiovascular Research please see the 'Charity' page